Meet Sallie
Sallie Alcorn is a mom, a wife, and a dedicated public servant who is running for Houston City Council to continue serving the city she loves.
Sallie and George, her husband of thirty years, raised their four kids, George, Maria, Janie, and Susie in Houston.  She considers her kids her greatest achievement, and she is enormously proud of the terrific young adults they've become.
Sallie is no stranger to City Hall where she has earned a reputation for being a strong staff leader with sharp analytical skills and a keen political sense. Sallie has served three council members and the city's flood recovery officer. She also held two positions in the city's Department of Housing and Community Development.  Her passion for public policy is well reflected in her work on a broad range of issues including city finances, infrastructure, transportation, housing, and economic development.
As chief of staff to the chair of the budget and fiscal affairs committee, Sallie became an expert in navigating the city's $5.4 billion budget. She helped develop the city's comprehensive financial policies and orchestrated five years of budget hearings. She was heavily involved in initial Harvey recovery efforts and obtained grant funding to advance green stormwater infrastructure initiatives. She assembled and managed a task force to tackle redevelopment and flooding policies, worked with council members to identify neighborhood drainage projects, and led the charge to bring Houston's Adopt-A-Drain Program to life.
Sallie also worked to alleviate food deserts, led park clean ups, established an annual senior falls prevention event, and advocated for city policy to allow ride sharing companies like Uber and Lyft to operate in Houston. In her work at the housing department, she successfully resolved compliance issues with HUD so federal affordable housing funds were restored to the city. In addition to these accomplishments, Sallie spent her many days at City Hall researching council agenda items, preparing ordinance amendments and briefing materials, and most importantly, responding to constituents needing help with city-related matters.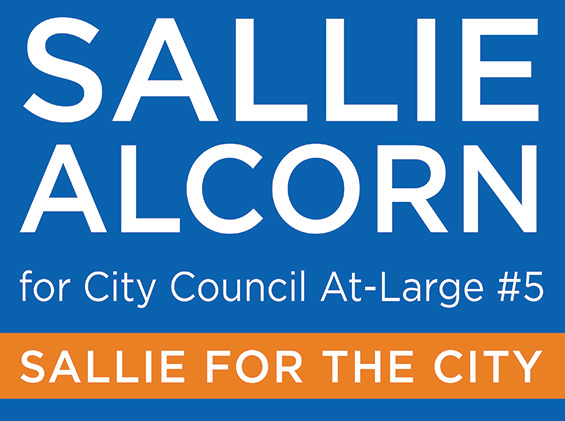 Sallie's long history of serving her community extends well beyond City Hall. Each week she works with offenders as a volunteer facilitator for Bridges to Life, a restorative justice prison program aimed at reducing recidivism rates. She is on the advisory board of the San Jose Clinic and has served on the boards of Holocaust Museum Houston and the Houston READ Commission. She has chaired events and raised funds for the Holocaust Museum, the Women's Fund, the Children's Museum, the READ Commission, and the Contemporary Arts Museum. She also served for many years as a parent volunteer at her children's schools. She and George are active members of St. Michael the Archangel Catholic Church.
Sallie moved to Houston in the seventh grade and attended Westchester High School. She graduated with a finance degree from the University of Texas at Austin and a masters in public administration from the University of Houston. In addition to her work at City Hall, Sallie served as district director for a Houston-area congressman, worked as a legal assistant at a large law firm, and was a credit analyst at a commercial bank.
In her spare time, Sallie enjoys hiking, running (doesn't really enjoy, but she runs), yoga, comedy, college football, the Astros, books, movies, the beach, and traveling to visit her kids.